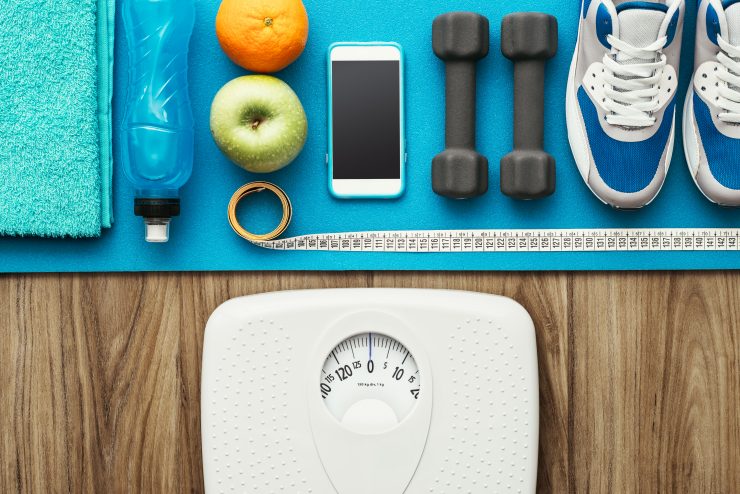 Gaining and losing weight both these are two different aspects but calculating TDEE (Total Daily Energy Expenditures) is important in both situations. Up to your health and figure, you can easily know about the type of food and exercise, that you need for becoming fat and looking thin. In this regard, everyone focuses on calories as calories paly the major role in shaping your body. Although there are many calorie counter apps available but for more quick results, TDEE calculator apps for android are highly recommended. Because along with calculating calories, these apps provide you an accurate estimation about the calories that you will have to burn (on daily bases) for staying healthy and reaching to your fitness goals.
Simply you need to add some details about your age, body fat, weight and height and then let it on the apps to calculate your energy requirements. According to the given results, you can decide whether to include or exclude the things in your diet plan.
One thing more, your lifestyle and activities also matters a lot in guessing your TDEE. That's why each one of the following TDEE calculator apps allow you to enter the works you perform in your day-to-day life. So that, the perfect workout and healthy activities can be planned at the right time.
This is an ideal app for every diet conscious person. Because it serves you in two ways: firstly, it lets you easily calculate your total daily energy expenditures and secondly, it enables you to keep an eye on your progress. Just on entering the required information, the app will generate reports and shows your current TDEE. You can save them for comparing your past and present weight and calorie amounts. Metric and Imperial, both measurement styles are supported.
Anyone can use this TDEE calculator app as it is easy and free. Calendar, graphs, charts, note taking and editing tools have made this app more comfortable. Your BMR and RMR values will also be displayed. Apart from automatic calculations, this app also tells you the methods for knowing your TDEE manually.
Furthermore, the app provides you different themes and zooming facility so you will have no difficulty in reading the reports.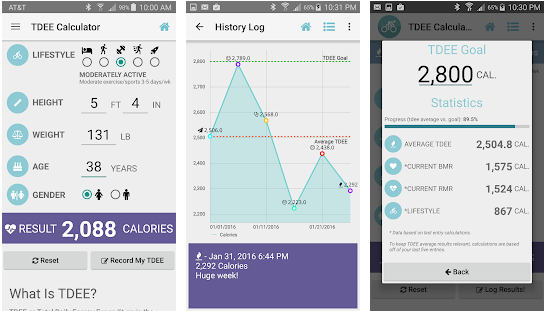 This app is perfect for people who want to be slim, fat and healthy. As it helps you to know your TDEE according to a standard formula. Therefore, the results will be considered hundred percent correct.
After putting the required data in metric system, you will see your TDEE. The calculating process is fast. That's why you can also use this app to know your BMR, BMI, water drinking amount and other nutrients that you take in routines.
In this way, this app provides you multi-functions in no cost. So, have it to quickly calculate total daily energy expenditures for enjoying life with style and smart looks.
In addition, this app is best for achieving your goals in less time and less efforts as its guideline and provided information will lead you to take better decisions for your health.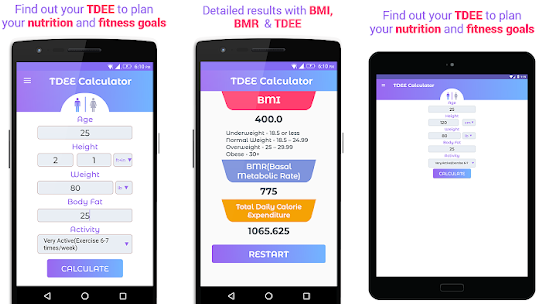 This app offers two formulas (of Mifflin St. Joer and Katch-McArdle) for TDEE calculations. Each of these formulas are further divided into two categories based on gender. So, clearly and accurately you will be informed about your TDEE.
For entering your data, you can use anyone method that can be metric or imperial. The app will take no more time in calculations. By getting benefit from the app's fast calculating system, you can also try it to count the number of calories and other intake nutrients.
Although there are many kinds of diet plans that are available online but this TDEE calculator app gives you six most authentic diets which are perfect to make you healthy.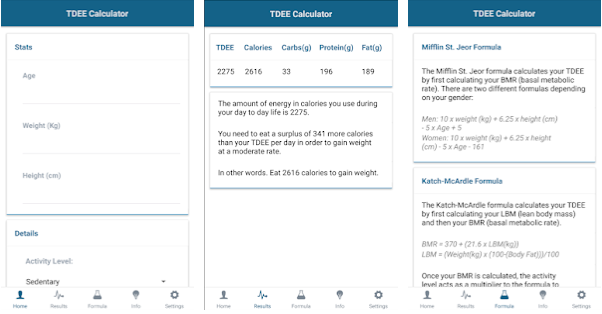 This is a unique TDEE calculator app for android. Just by putting your body fat and calories, the app will produce reports to let you know whether your burn or intake calories are enough for maintaining, gaining or losing weight. Automatic and manual, anyway you can pick for adding information in numbers. Google fit, linear regression and graphic support is also included so you can easily analyze your health status.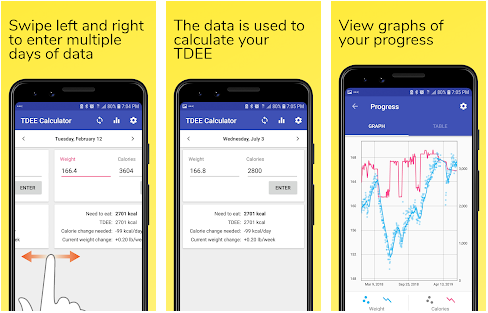 This TDEE calculator app works same as the above apps. For example, entering data and getting results in calories. There are different boxes, and, in each box, you have to add the data in metric or imperial form. Then just press the calculate button for viewing your current TDEE and BMR.
Knowing your MET (Metabolic Equivalent of Task) values is also possible with this app.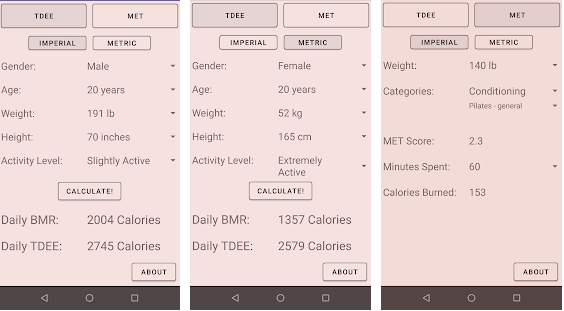 Although manually, you can also calculate your TDEE but having the above apps let you get mistake free, time saving, and quick results.