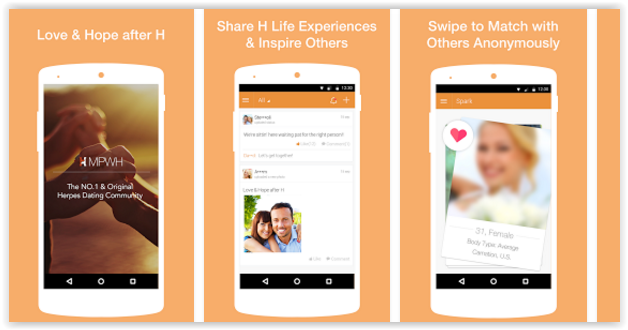 MPWH, which means Meet People With Herpes, is the popular dating app for people with herpes, It's developed by OnlineMeetMedia Limited.
Dating with herpes is always difficult because of big social stigma, MPWH is a good place to help singles herpes find support, friends and love. It's a peaceful and there is no judgment, stigma-free environment, members can share their sorrows and happiness whenever they want. Meanwhile, It's an anonymous dating community that members don't need to worry their information is exposed. And MPWH can keep your privacy safe.
Something need to figure out is that MPWH is only allowed people with herpes join, it filters out other STD singles such as people with HIV, HPV and so on. They aim to help people with herpes only since herpes is common and they are desperate to find support, friendship and love.
What is the MPWH unique feature?
Herpes only: Only people with herpes can join, your profile will be canceled once they find out you are not living with herpes
Anonymous community: It's an anonymous community, you don't need to show your real name, real social relationship. You don't need to connect your Facebook or other social accounts which may contain your personal information.
More than a dating app: It's more than a dating app, sometimes you will feel it's a social group specially set for people with herpes
Its Blog feature is great: If you have something to say or express, just post it out on Blog, meanwhile, you can also read blogs from other members, it's impressing and sometimes interesting.
Share your moments directly: If you have something to share immediately, try "Moments", share your mood, share your photos you just take.
MPWH's members mainly come from the United States, UK, Canada and Australia, however, it welcomes people with herpes from all over the world join.
You can find MPWH in many app review websites. And it's available on both of Google Play Store and iTunes Store.You can download it here:
https://itunes.apple.com/us/app/mpwh-1-herpes-dating-app-for/id977075561
https://play.google.com/store/apps/details?id=com.successfulmatch.mpwh&hl=en