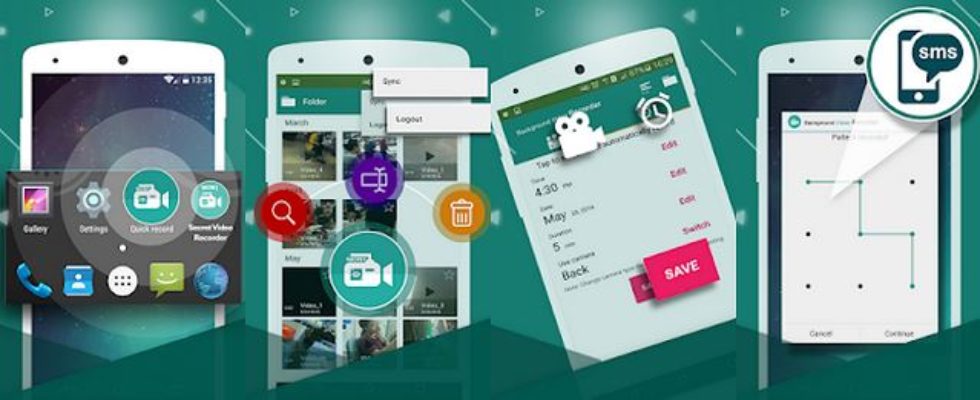 I love secrets because there is a strange pleasure in keeping or disclosing a secret. But to disclose a secret you need a proof that can be in written, oral or video form. Android mobiles are the best way to record any type of secrets like voice and call recording even you can also secretly record the videos. Nobody can guess that you are recording his or her video. But for this you will have to download the best secret video recorder apps for android because these apps let you to do your job secretly. Although all the android mobiles have the built in camera feature that enables you to make videos whenever and wherever you want. But there are some exclusive moments where to openly record the video is not an easy task but if you had secret video recorder apps then you can easily track the ongoing happenings. There will be no sound and no light blinking. The hidden video recording will continue in the background even when you receive the phone calls, playing games, using other apps and turning off your screen. That's why these apps can also be called "the background video recorder apps". Let's explore them in detail.

This app lets you to secretly record the videos according to your choice. You can schedule the slient recordings, mute the shutter sound, disable the flashlight and preview. When the recording will start or stop, your phone will vibrate or display the notification. This app also allows you to edit the videos, use the widget, set the night mode, video quality and more.
Top Features
Trim recorded videos
Secretly Record Videos on Your Android
Preview views Option
Shutter sounds Option
Multiple advanced options
Schedule your recordings
Widget Support
Back and Front cameras
Storage location option
Unlimited video duration
Auto stop rec
Video resolutions 720p and HD-1080p or low 480p support
Secure

Background Video Recorder enables you to quickly record long or short videos in HD results. You can disable the notification, record the video without voice, change the camera sound and the intensity of the flashlight. This app also supports the SD cards, Dropbox and Google Drive etc.
Main Features:
• Custom icons
• Split video files and sliced based on time or file size
• Supports of Both Camera (front and back)
• Video without audio Option.
• Password protected Rec
• Full privacy is assured
• Advanced shutter mute options
• Compatible with Tasker
• Talk on the phone while video recording continues in background
• Turn screen off and continue recording
• Professional video recorder
• CCTV and security video rec
• Car Dash Cam support

This app lets you to enable or disable the notification icon and camera preview to record the exclusive moments. You can set the recording duration, use the widget and carry on the recordings even when your screen is lock or you are normally using your mobile. This app is available in more than one languages.
Best Features:
★ Unlimited video rec with no camera shutter sound.
★ Video orientation Options
★ Record even during phone call
★ No screen message when start/stop rec.
★ Storage check before recording
★ Direct folder access to recorded videos
★ Simple Auto sync with Google drive
★ Protect data with locks
★ Hide data from Gallery

This is a very easy to use app that gives you the facility to record unlimited videos in a single click. It has no preview and sound. You can use the night vision camera,  private gallery, notification, time lapse, auto focus, pin code and password to take and hide your secret videos.
New Features
★ Clean material design.
★ One touch to start and stop video recording
★ Orientation of screen
★ Record during phone call with background mode.
★ Schedule to Recording video at specific time.
★ Protect videos by passcode locks screen.
★ Show/Hide secret video recordings from Gallery.

Like the above apps, this app also allows you to take private videos with secret spy camera. No sound, no preview and quick background recordings have made this app very much popular among all the android users. You can utilize the front and back camera, configure the settings and many more.
All Features
It has all the features that are provided in SVR.

Silently make recording that will continues even when your screen off or other app is opened. No one will know if you are recording.
One touch recording with Widget. This is NOT a screen recorder app rather than an which allows you to records videos from your camera secretly
Main Features:
• View Rec in app
• Mark important recordings
• Battery Saving Option
• Consider Low space error while recording
★ Start rec by sending SMS to device
★ Add notes to rec
★ Password protect app
Do you have ever tried any of the above background video recorder apps for android? Does it do the job up to your requirements? Give me your feedback in comments.