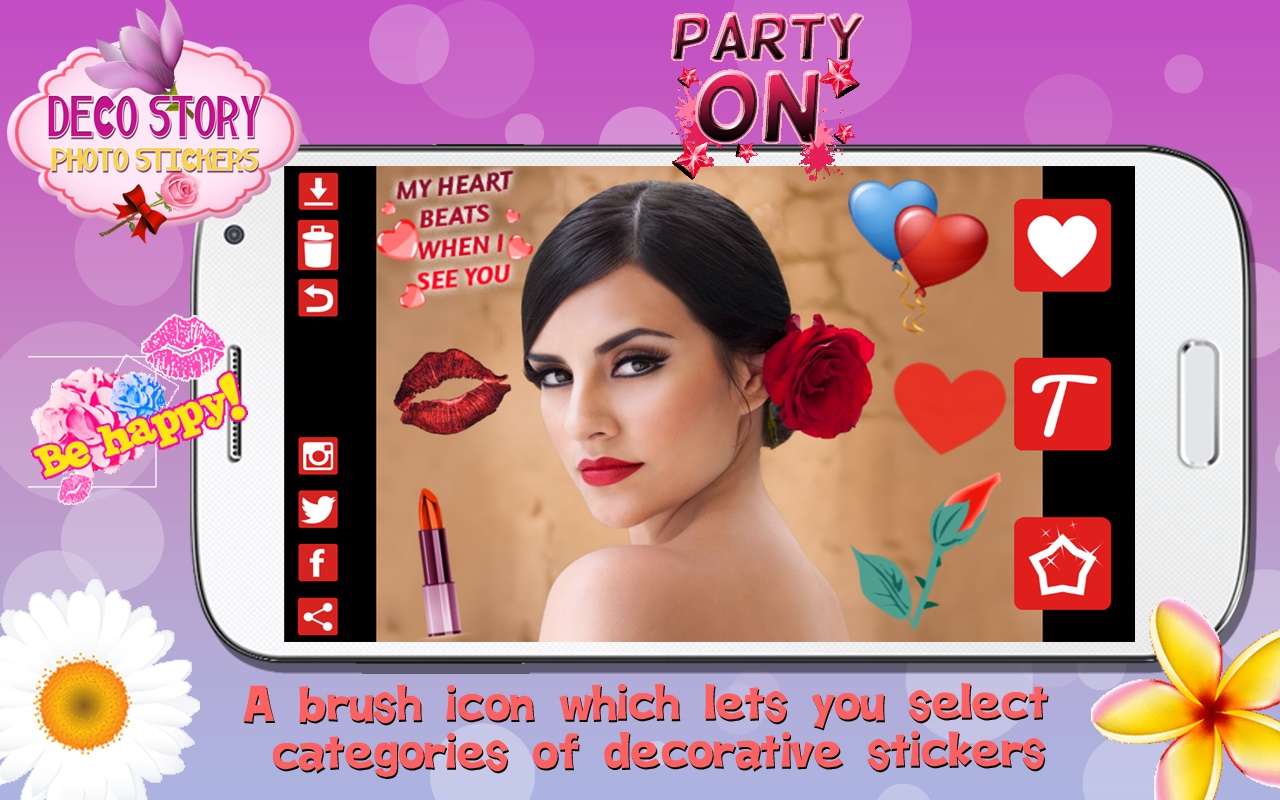 Many people love to make their things unique and beautiful. As a school going boy I often remain busy to decorate my notes, copies and books with beautiful stickers so that my friends and teachers praise my creativity. And now as a youngster I love to get more and more likes from facebook and other social media that's why I remain busy to decorate my pictures with cute stickers. To fulfill my craze I had tried various photo editing apps but at last I found the best photo sticker apps for android that are specifically designed for the sticker fans. These photo sticker apps offer a lot of beautiful and cute stickers which you can use to express your emotions. You can get the funny, smiley, Kawaii, thug, animated, emoji and other type of stickers which suits well on your photos.
Although there are a variety of photo sticker apps for android but here Newzoogle will tell you about the best and beautiful photo stickers apps for android.

This app provides you more than 200 stickers that are beautiful and impressive. You can easily set these stickers anywhere in your photo. This app also lets you to add text in your pictures, save and share them with your friends on facebook and other social networks.

Giddylizer is a very easy to use photo stickers app because it provides you different categories related to the cute stickers such as Halloween, Christmas, Panda, berry and more. You can rotate the stickers and set them with your fingers. This app also allows you to make your own stickers and write on them in different styles.

DECO PURI gives you a variety of amazing stickers that are beautiful and cute in colors, design and patterns. You can select your favorite sticker categories to get the stickers which you need. This photo sticker app also lets you to rotate the stickers, change the size, apply the cute effects and frame your pictures with beautiful borders.

Camera360 is an amazing photo stickers app because it gives you more than 100 funny and cute stickers to make your pictures beautiful. You can change the background, skin color and size of your pictures. This photo sticker app also enables you to edit your photos with a lot of frames, filters, collage layouts, mirror and PIP camera effects.

Almost all kind of cute and unique stickers are packed in this great photo sticker app for android. You can add a variety of things on your photos such as thought bubbles in various shapes, eye glasses in different colors, beautiful hats in funny styles and many more.
Stickered for Messenger

This is one of the most downloaded photo stickers app because it lets you to give stunning effects to your selected stickers such as pinch, stretch, rotate and more. This app also enables you to quickly share your artistic creations with your friends on facebook, twitter and other networks.

Deco Story Photo Stickers app provides you various options to find the stickers of your choice. You can select the brush icon to get the cute butterflies, sweet cupcakes, eye glasses and many other decorative things. You can also pick the pen icon and wand icon to have the sparkling text stickers which are really impressive.
Newzoogle Special:
Now it's time to tell you about a great arcade game.
Mega Stacker
Mega Stacker is a very challenging and addictive game developed by Amore Gamestudio. This game is full of fun and gives you a very interesting task to block the stackers in various machines and win the multiple rewards. You have to collect the stickers to unlock new wallpapers. There are more than 75 cute stickers, 10 amazing wallpapers, 100 new cubes, jackpot machines, leader boards and different game levels to inspire you to play more and play. Mega Stacker is also a customizable game so must try it and remember to share it with your friends.
Do you love to decorate your pictures with stickers? Which photo stickers app for android offers the most beautiful stickers? What do you think about Mega Stacker? Newzoogle is waiting for your feedback.