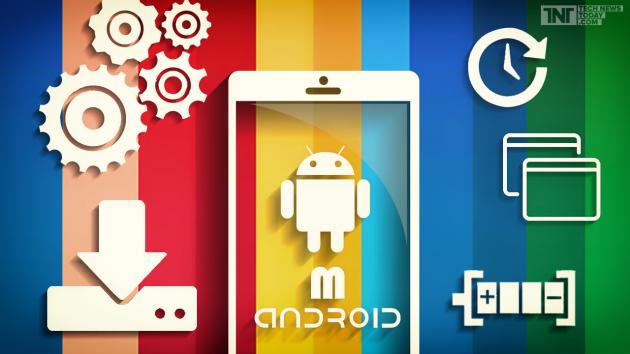 Android has successfully completed the glorious journey of its amazing versions like Jelly Bean, Kit-kat and Lollipop etc. And now putting a step further it has been creating a thrill in the android market with its latest operating system known as Android M. Although all the android generations have their own significance but newzoogle like to say that android M is the crown owner of all the previous versions. Android M has such valuable and interesting features which are already clicking in the mind of many expert android users but away of their reach. In 2015 android M is ready to offer the features of your demand like double battery system, Google Now tap, fingerprint support and many more which newzoogle will discuss one by one in a very precise way because zoogle knows that your time is precious. If you have Nexus 5, 6, 7 then you can get the preview of Android M.
Let's start with the most wanted feature of android M.
Doze for Long Battery
May be you have tried to prolong your battery with best battery saver apps but android M has built-in battery increaser system. The Doze feature of android M has the ability to detect the time limit when you are not actually using your device. It will automatically shut down the processor and save your battery from quick consumption.
Now on Tap
The amazing feature of android M is that it will perform the functions like Google Now and the personal assistant apps. You can easily ask a variety of questions about anything and anytime. Android M will give you the correct answer of your question without wasting your time.
Android Pay
Android pay is the best alternative of Google Wallet and allows you to easily make the purchase dealings directly from the apps and NFC. This feature of android M gives you the full freedom to enable or disables the payments by utilizing the fingerprint support.
Fingerprint Support
This feature of android M is awesome in itself because it will not use the boring password or pin system rather applies the fingerprint mode for the authorization of different apps. Android M will made the purchase business much easier than ever before.
Control the Apps Permissions
All android users will love this specific feature of android M due to its reliability. You can easily install any app without considering their permissions. Whenever the app needs to use your credentials like contacts, camera and microphone etc you can admit some of its permissions for a limited time and later cancel the permissions.
Direct Share
If you have the habit to share data, photos, locations and something else with your dear ones then this feature of android M will take the notice of your constant activities and will give you the option to share directly and quickly.
Volume Control
Volume control feature of android M is really praiseworthy that it enables you to set the different volumes for your ringtones, alarms and notifications.
Uninstall Apps Quickly
No need to push the various buttons for disabling the unwanted apps. With this feature of android M you can simply close down or uninstall the shortcut and apps both from your home screen and whole device.
USB Type C-Support
This feature of android M has all the necessary qualities of hardware and allows you to charge your various devices directly from your android.
App Backups
The very smart feature of android M is that it will automatically save your messages, contacts and many more on Google Drive. In case of data lose you can restore and backup your apps, messages and contacts from Google Drive.
Hope you will like the article and the efforts of android developers. Give me your feed back in the comment section given below.